10 Jan 2019: Strict rules still hampering fisheries
Industry woes persist despite EU move
(Information Source: Bangkok Post, by Assawin Pakkawan on Thu Jan 10, 2019 07:21 am)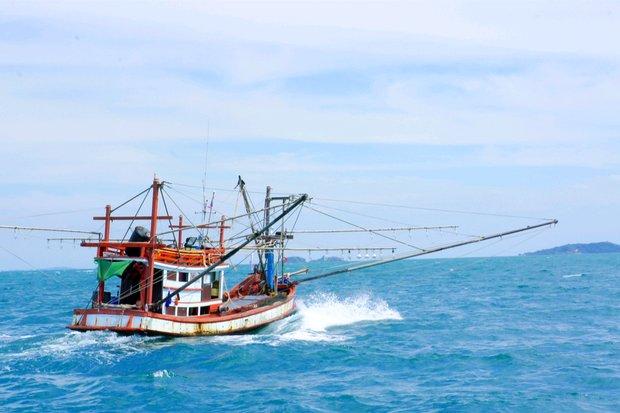 A fishing trawler heads out to sea from the South. Fishermen are appealing for relief against 'overly stringent' rules meant to battle illegal fishing. (Photo supplied)
Even though the European Union has delisted Thailand from its yellow-card status, much needs to be done to reverse the plight of the fishing sector affected by "overly stringent'' regulations issued to fight illegal fishing, the president of the Pattani Fishery Association says.
Phubet Chantanimi said fishing operators are still affected by about 400 laws and regulations related to the tackling of illegal, unreported and unregulated fishing (IUU).

They have had an adverse impact on the livelihood of fishermen and caused damages worth hundreds of billions of baht in the sector, Mr Phubet said.
"In fact, the removal of the yellow-card status does not improve things for fishermen," he said.
He called on the government to amend or relax some of the more stringent rules that adversely affect fishermen.
For example, trawlers in some provinces are required by law not to put to sea until 9am. Any that have opted to leave just 10 minutes early have been fined 100,000 baht per trawler, Mr Phubet said.
"This was too heavy-handed as they didn't cause any damage," he said.
He said operators and fishermen should get a say in amending the rules and regulations, particularly two royal decrees issued in 2015 and 2017 to stamp out IUU activities and improve regulation of the Thai fisheries industry.
Lae Dilokvidhyarat, an economics lecturer at Chulalongkorn University, said the country has much to work to do before it can win back the confidence of consumers abroad, particularly in the EU.
After the yellow card was issued three years ago, Thai seafood exports were cast in a bad light and exporters suffered huge losses, Mr Lae said.
Commerce Minister Sontirat Sontijirawong said the de-listing would also be a boon for spin-off industries like seafood processing.
On Tuesday, the EU de-listed Thailand from yellow-card status in recognition of its progress in tackling IUU activities. The warning was issued in April 2015. A yellow card is the first step toward the EU banning imports from a country.

Thailand is the world's third-largest exporter of fish products. Failure to resolve the IUU problem, and an ensuing trade ban, could have led to losses of US$300 million a year.
Since the warning was issued, the EU and Thailand have engaged in a constructive process of cooperation and dialogue.
The Thai government has amended 138 of its fisheries regulations to align with international laws and standards.