27 Jan 2019: Child boat crew plan 'unlikely'
The Labour Ministry set to block proposal to allow under-18s to work as trainees
(Information Source: Bangkok Post, by Penchan Charoensuthipan on Sun Jan 27, 2019 06:20 am)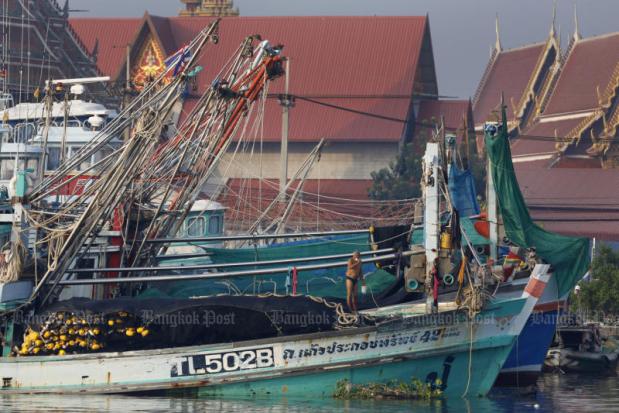 The Labour Ministry pours cold water on a proposal seeking to allow people aged under 18 to work on fishing vessels as trainees. (Bangkok Post photo)
The Labour Ministry has poured cold water on a proposal seeking to allow people aged under 18 to work on fishing vessels as trainees, saying the issue involves the use of child labour and the country has a strict legal framework to protect children.
The proposal has been floated by some fishing operators as Thailand moves to ratify the International Labour Organisation's 2007 Work in Fishing Convention, widely known as C188.
C188 stipulates that people working on fishing boats must be 16 years of age and over and have completed all the required training while a Labour Ministry regulation prohibits fishing boats from hiring workers aged under 18.

Labour Minister Adul Sangsingkeo said no agreement has been reached on the proposal, which is regarded as highly sensitive and controversial, and Thailand had also ratified the Worst Forms of Child Labour Convention, known as C182, which bars under 18s from working as crew.
The apprenticeship proposal is among 14 issues that were discussed as the ministry met fishing operators from 22 coastal provinces to iron out all disagreements and ensure compliance with C188.
The convention is geared towards improving the working conditions for fishermen and providing them with better access to social welfare.
Mongkol Sukcharoenkhana, president of the National Fisheries Association of Thailand, said hiring under 18s would be a step backwards despite being "technically" allowed within the C188 framework.
He said the proposed apprenticeships, which apparently target youngsters from fishing families, will have to be thought out carefully too.
A source at the Labour Ministry said the proposal to let people aged 16 and above work on fishing boats is likely to be rejected even though it does not infringe on the C188 framework.
The ministry still has obligations under C182 which prohibits the employment of under 18s on fishing crews, the source said. The offence carries a penalty of up to two years and/or a minimum fine of 400,000 baht per hired child.
An NGO officer with expertise in migrant worker issues has voiced staunch opposition to the proposal, warning it could lead to exploitation if the rules are not clearly set.
"Concerned parties must tread carefully. It is a sensitive issue. We already have better standards handling child labour, so why should we lower them?", the officer said.