8 Jan 2019: EJF cautions 'important gaps' remain after EU lifts Thailand's yellow card
(Information Source: Undercurrent News, By Louis Harkell on Tue Jan 8, 2019 12:13 GMT)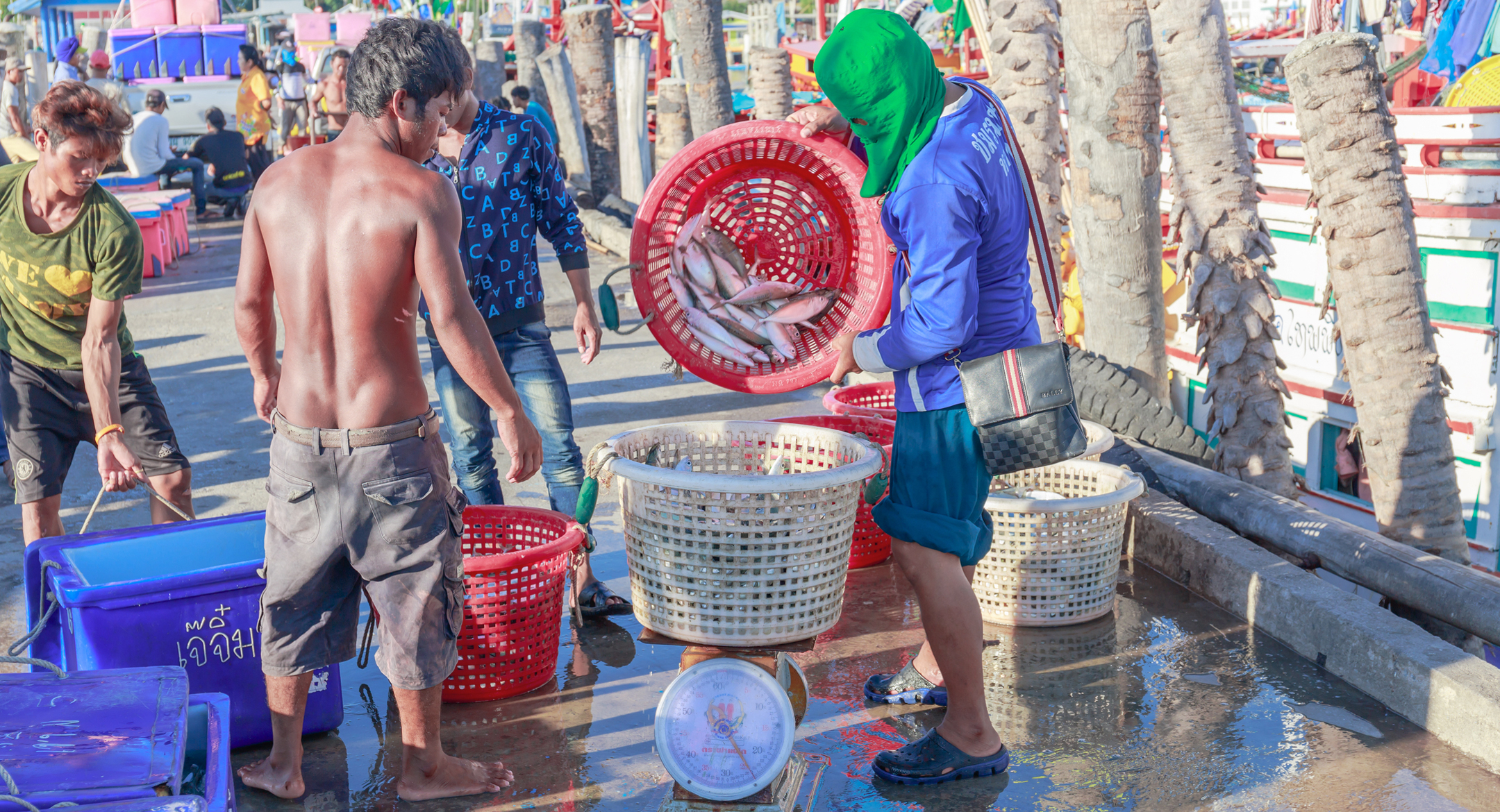 Thai fishermen sorting days's catch at Samae San port, Thailand. Fishing is a key occupation and income source on the island. Credit: jack_photo/Shutterstock.com
The Environmental Justice Foundation (EJF) has welcomed the European Commission's lifting of the "yellow card" warning on Thailand on Tuesday, although it cautioned "important gaps" remain.
Free from the threat of sanctions, the onus is now on the Thai government to sustain the progress made and carry through further reforms, it said.
"Without the threat of sanctions from the EU, strong political will is needed to entrench the positive progress already made and ensure its long-term success," said EJF in a statement.
EJF, which has worked closely with the Thai government since 2013 on tackling illegal, unreported and unregulated fishing (IUU), said "lingering shortcomings" remain despite the progress achieved by the country. This prevents Thailand's fishing industry from becoming "truly ethical and sustainable", it said.
Gaps include the lack of translators for crew members during inspections of catch, and the labor conditions of vessels in ports, which prevents the gathering of evidence by inspectors. To phase out vessels from Thailand's fleet of more than 11,000 commercial fishing boats, there also needs to be a "time-bound vessel decommissioning program", EJF said.
The organization said Thailand had also shown "vitally important regional leadership" in moving to become the first country in Asia to ratify the Work in Fishing Convention C188, which sets basic standards of decent work in the fishing industry. But it added ensuring the ratification of the convention proceeds as planned at the end of January is "vital".
Overall, EJF praised the "significant and substantial improvements" in Thailand's monitoring, surveillance, and enforcement capabilities.
"On-the-ground investigations have shown good progress, including innovative efforts such as the use of covert patrol vessels to combat non-compliance among vessel operators and intercept illegal fishing boats," EJF said.
Thailand's 'Port in Port out' (PIPO) network is a "powerful tool". Numbering 32 centers across Thailand's 22 coastal provinces, and supported by a further 19 Forward Inspection Points which help share the workload of the main PIPO centers, all fishing vessels above 30 gross metric tons must report to their local PIPO center before and after every fishing trip, for inspections by the authorities.
Meanwhile, to address over-capacity of the Thai fishing fleet, Thailand has made progress in identifying fishing vessels that could be phased out.
EJF also offered praise for the European Commission. "Without the extensive, bold and progressive efforts initiated by the EU Commission and a small dedicated team there, much and possibly most of the progress we have seen in addressing highly damaging IUU would not have been realized. Europe can be rightly proud of the leadership it has shown," said Steve Trent, executive director of EJF.

Thailand's ranking of US State Department's Trafficking in Persons watchlist. Source: EJF
EJF has been one of the fiercest critics of Thailand's fishing industry.
It has previously said labor abuses in Thailand's fishery were among the "worst seen", and supported the US State Department's downgrading of Thailand to Tier 3 -- the lowest tier -- on its Trafficking in Persons list in 2014 (see chart). It has said overfishing, pirate fishing and people trafficking/slavery in Thailand must be addressed as interconnected issues.
In 2016, it called for Thailand to remain on Tier 3 of the US State Department's list. The department subsequently lifted Thailand to Tier 2 'watchlist' the same year, before upgrading Thailand to full Tier 2 status in 2018.
Following a meeting with Thailand's deputy prime ministers Prawit Wongsuwan and Chatchai Sarikulya in September 2018, Trent said Thailand could become a "showcase" as a regional and international leader in sustainable fisheries management.