12 Nov 2021: Top executives laud CSR as priority for modern businesses
(Information Source: Bangkok Post, by Suchit Leesa-nguansuk, Lamonphet Apisitniran & Janine Phandeetham
on Fri Nov 12, 2021, 04:00 am)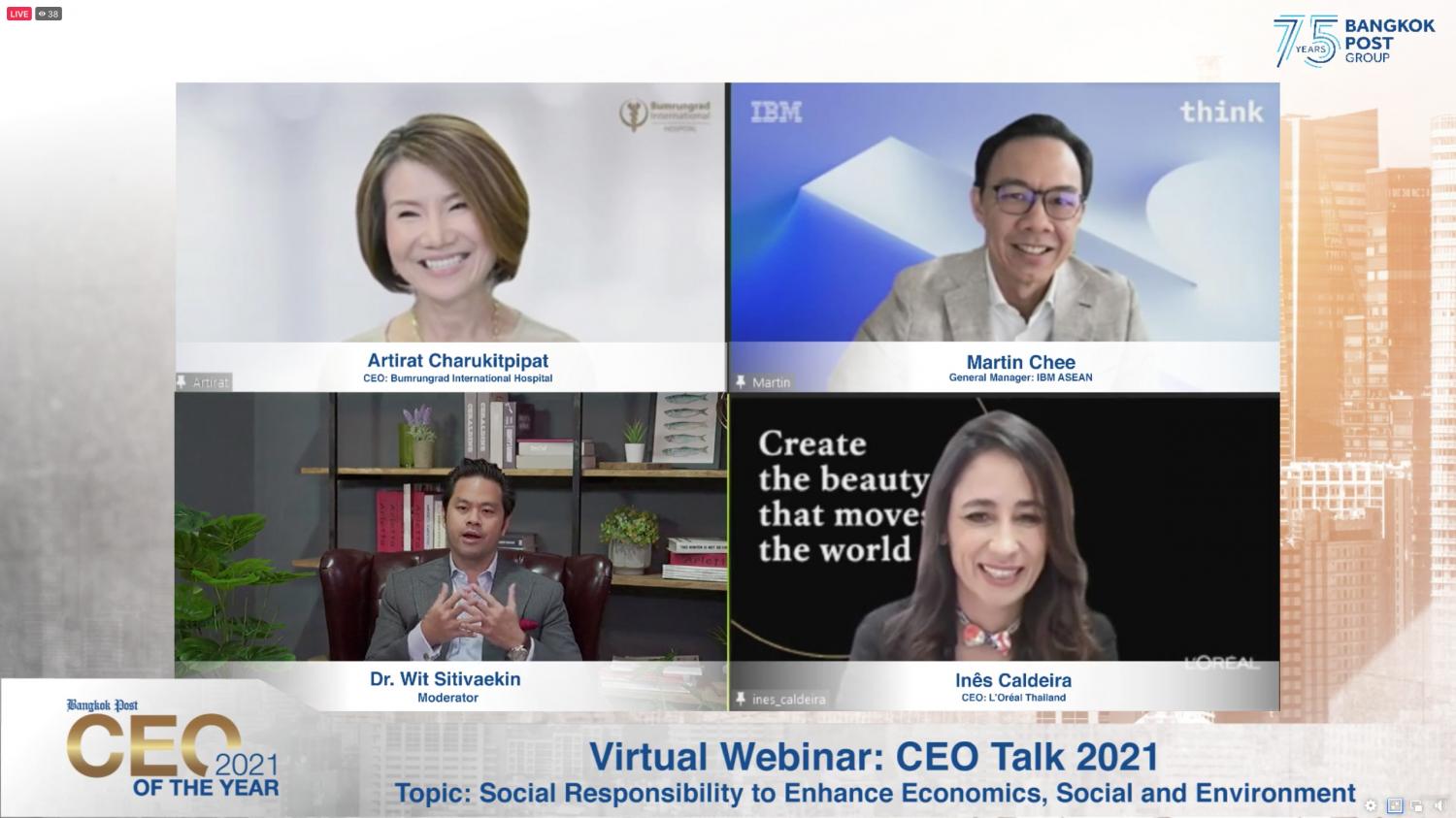 Clockwise from top left are Ms Artirat, Mr Chee and Ms Caldeira at the Bangkok Post's weekly CEO Talk 2021. BANGKOK POST
Corporate social responsibility (CSR) is not an option but a fundamental necessity for companies that will reshape their organisations, potentially engage clients, partners, investors and employees, and address tough societal challenges, according to three leading figures in the healthcare, beauty and tech industries.
Artirat Charukitpipat, chief executive of Bumrungrad International Hospital, Ines Caldeira, chief executive of L'Oreal Thailand, and Martin Chee, general manager of IBM ASEAN, yesterday shared their views at the Bangkok Post's CEO Talk 2021 webinar under the topic of "Social Responsibility to Enhance Economics, Social and Environment".
FUNDAMENTAL VALUE
Mr Chee said the key factors to making CSR successful needed to align with business objectives and existing resource capabilities, including core strengthen and employee contributions, while requiring partnership in the ecosystem for sustainability and effectiveness.
He stressed that CSR will lead to fundamental value to draw new talents who can feel a sense of purpose in connection with companies that employ them.
It also helps engagement with clients, partners, investors as well as existing employees as they feel energised and have a sense of "force for good".
"We add CSR as a long term in budget and a measure for success similar to commercial projects which need to achieve objectives, on time and on budget," he said.
IBM's CSR approach focuses on building digital skills and STEM (science, technology, engineering and mathematics), according to Mr Chee.
In Thailand, IBM has rolled out the P-TECH education programme to boost future skills for students in collaboration with the Office of Vocational Education Commission, four vocational colleges and three industry partners, including Advanced Info Service (AIS), Seagate and Minor International.
The team leveraged global resources and balanced local requirements to customise the curriculum, skill mapping and identified the essential skills that will benefit the workforce in Thailand.
Mr Chee added that on a global level, IBM launched its "Call for Code" challenge in 2018 to put open-source technologies into communities that needed it most. As open-source development makes source code publicly available, users can see how the software was designed, enabling a wide exchange of ideas to foster technological innovation and choice.
This year, a team from the University of the Thai Chamber of Commerce (UTCC), in collaboration with Harbour. Space University, was honoured as one of the top five Call for Code Global Challenge University Finalists.
This team, called Well Well, developed an artificial intelligence tool that is able to find the best water location within walking distance and evaluate the minerals and chemical composition of the water.
"Through Call for Code, we succeeded in activating developer expertise and innovative ideas powered by IBM technology and furthered by open source communities," Mr Chee said. These challenges enable IBM to inspire, mobilise, and support target populations while developing skills and engaging employees to maximise impact.
REAL LOOK OF CSR
Meanwhile, CSR in the view of Ms Artirat is not a marketing tactic to build a company's image but a core value that puts her hospital on a path of business sustainability.
It is true that CSR can be used to polish a company's image, but the hospital adopts it in order to complete its mission, which aims to give patients excellent medical services and contribute to society, Ms Artirat said.
She separates CSR from Bumrungrad's marketing strategy, which focuses on medical products and technologies, and has it embedded in the hospital's day-to-day practices.
"CSR, in my view, encourages us to offer medical care with positive results and compassion," said Ms Artirat.
"It is also expanded to benefit the community we live in."
Bumrungrad has a long-term commitment to supporting the society through many projects implemented by the Bumrungrad Hospital Foundation that was established in 1990.
"The foundation provides healthcare to underprivileged people. More than 100,000 of them were given medical services free of charge," said Ms Artirat.
The hospital also runs a heart surgery programme to help several hundred children with heart disorders. The kids badly need a cure but cannot afford to pay for treatment bills.
Ms Artirat said Bumrungrad usually does not promote its CSR projects as it appears to be an "internal CSR" known and adopted among hospital personnel.
She does not think it is difficult to have doctors, including many part-time doctors at the hospital, to adopt CSR as they already have empathy and are willing to devote their time to patients.
During the uncertainty of Covid-19 outbreaks last year, hospital personnel were worried about disease transmission, but they continued to treat Covid-19 patients.
"A nursing team even cried as they felt afraid, but they were still concerned over patients," said Ms Artirat.
BEYOND PRODUCT SALES
L'Oreal Thailand indicated that the company's role in building a better world goes beyond simply selling beauty products. It focuses on giving back to all stakeholders while simultaneously expanding its growth.
Ms Caldeira highlighted her company's environmental, social, and governance (ESG) strategy.
"My take on CSR is that it needs to be very transparent, needs to be concrete, and needs to be approached for the long run and really address the issues of the communities locally," said the chief executive of L'Oreal Thailand.
L'Oreal structured its ESG projects under L'Oreal for the Future. It is a global programme that sets ambitious targets from now until 2030.
Some of the ongoing projects in Thailand include rice bran oil sourced from local producers in the Isan region. The unique oil then gets incorporated into L'Oreal anti-dandruff hair care products. The company also partnered with several organisations to promote women's empowerment, especially in science and technology. L'Oreal Thailand donated 300 million baht in 2020 and again this year to the affected communities and the healthcare sector.
While some may view ESG initiatives as merely PR stunts that do not necessarily contribute to revenue growth, Ms Caldeira begged to differ. She explained that consumers, particularly the younger generations and talents, choose to invest their time and money in businesses that are mindful of the impact they bring to the world. Hence, sustainability must be part of the company's mission and identity.
She gave an interesting example of interviewing candidates in recent years. Many no longer asked whether L'Oreal is the number one company in the beauty sector or about their five-year career prospects. Instead, they asked: "Why do I want to join this company? What are you doing that is different than the generations before me?"
"It's much more interesting to come and work every day at L'oreal, not because you want to sell, but because you are creating the beauty that moves the world, and you are making an impact in Thailand. That's much more valuable and give you a much better sense of purpose," Ms Caldeira said.
"CSR is just not about the P&L [profit and loss] and such. It is a much broader view, which gives concrete results for the company. That's why at L'Oreal, we have a principle that we measure our performance against financial objectives and extra-financial objectives. That's why programmes like these have an amazing return on investment and our CFOs embark on this journey with us. This is part of us as a company, not an add-on that we do to please people."
Another component that differentiates ESG programmes from PR campaigns, according to Ms Caldeira, is setting ambitious yet realistic goals that are achievable.
"You track your commitments and those goals against the commitments you took with the communities. That is what helps with building accountability and transparency. When we set the goals at L'Oreal, we do that with external partners because we want them to keep us on our toes. We want them to have an independent view and make us run for the objectives. That's transparency at core."
She added that the investment must also be behind these promises companies make to uplift the communities. As for L'Oreal, the company recently announced a budget of 100 million euros in impact investing to act upon critical environmental challenges, and an additional 50 million euros to support women.
For companies that consider starting or building strong sustainable ESG initiatives, Ms Caldeira suggested they should "start small and grow with time or remain at a small scale, but be consistent".
The rationale for such a strategy is to enable efficient time and resource management for companies, NGOs and all parties involved, especially those awaiting benefits from the initiatives. It will ultimately make it easier for all to play their part in creating the beauty that moves the world forward.